dimanche 26 fĂ©vrier 2017 à 13:19
Book: The Reactionary Mind
Par Eric Antoine Scuccimarra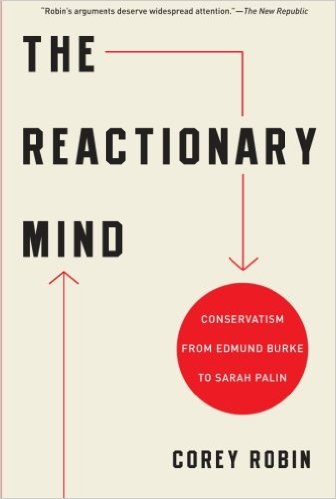 The Reactionary Mind: Conservatism from Edmund Burke to Sarah Palin, by Corey Robin, is a book of essays about conservatism from the 17th century to today. I have often struggled to try to figure out exactly what "conservatism" as a political philosophy actually means and I thought this book might shed some light. While it did have some interesting ideas, it didn't really do that great of a job answering my question.
The traditional idea of conservatism is about trying to preserve existing orders and traditions. Robin argues that modern conservatism is more of a reaction to radical ideas and movements than any real sort of ideology. While there are serious conservative thinkers, he draws a distinction between them and th conservative political movement, which seem more aimed making sure that those with money and power keep their wealth and influence than in instigating any real cultural or social changes.
He says that traditional conservatism, as epitomized by Edmund Burke, was about having change be gradual and organic, about being more pragmatic than idealistic and in general preferring the known, no matter how good or bad, to the unknown - which has the potential to be much better, but also to be worse. Essentially it is a fear of change. Traditionally conservative movements have arisen in reaction to revolutionary ideas - when things start to change people start to mobilize against change, and in favor of keeping things they way they were. These types of counterrevolutionary movements have occured in reaction to things ranging from the French Revolution, to abolitionism, to women's suffrage, to civil rights, and even to the 1960's anti-war movement. Taken in this context, the recent radical populist conservatism in the US is just another reaction to social and economic changes, not a new ideological movement as the Tea Party, the "Alt Right" and Donald Trump like to think of themselves as.
In this book Robin gives some interesting analyses and thoughts on conservative movements through the years, but he is largely preaching to the choir. The book is not going to change anyone's mind, nor does it really aim to. It is an interesting read, and I agree with most of his points, but I didn't really get much out of it that I didn't already have going in.